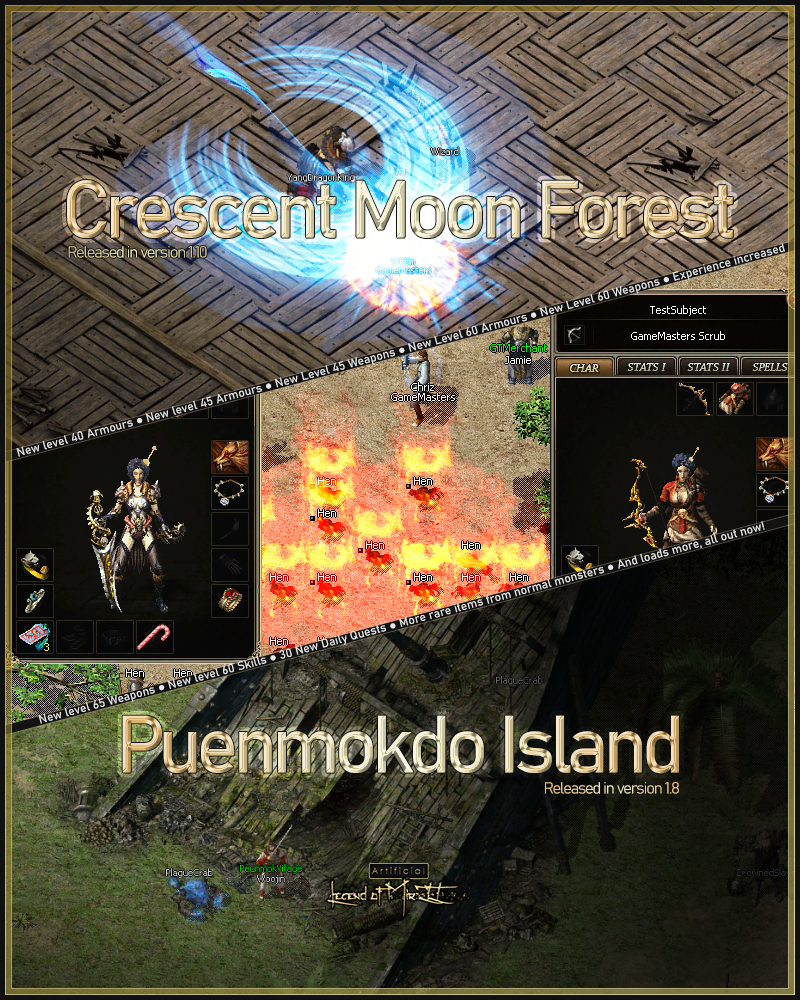 As part of our continued and regular update initiative, we're proud to announce a range of exciting new and exclusive features only to be found on Artificial Mir II's Phoenix Server.
As always we'll be running regular weekly Lord events on Sunday 8pm BST. In these battle royale-style events large numbers of players come together and fight it out for the most lucrative monsters and loot, who will prevail?
As well as opportunities to get your hands on some of the new and highly sought-after exclusive items from one of our many formidable bosses and monsters.
In addition, we are also enhancing the chances of obtaining rare items from regular monsters across the lands, giving you more opportunities as you casually progress and play.
Whether an existing player in the community or new to the legend of mir, these updates will provide a thrilling game-play experience. Full details of the past three updates are listed below:
03/08/2021 (v1.8)
Fixed damage on first attack when leaving Moonlight (now applies DC scaled double damage)
Fixed missing Woomyon Valley teleport from Mysterious Town Scroll when above level 40
Fixed drop file for tier 5 Premium Dungeon RedKey Boss
Slightly increased the base success rate of Orbs
Added Safe Zone area around LegendaryHero NPC
Added Runes, Amulets and Poisons to the Villain Merchant in Screaming Hell Entrance
Reduced density of ranged monsters in Premium Dungeon Tier 1
Gathering of Bones switched to Repeatable Quest type
Taoist Village and Prajna Guards will no longer attack pets (Only the 2 Guards nearest TaoistVillage SafeZone will now attack your pets)
Ice Thrusts Mana cost has been corrected
PoisonCloud's SC scaling has been improved
Adjusted cooleye of GreyCave monsters (will see through invisibility more often)
Peunmokdo Island is now reachable (via the Sailors in Border Village and Prajna Island)
Full Daily Quest System is added (these are available at Bichon Wall Safe Zone and reset at midnight daily)
New multi-part Quest available at the Mining Officer in Woomyon Valley to allow reduced entry fee to Seokcho Mines
03/08/2021 (1.8a)
— Mini Update —
Potential Fix for client crashes / instability on latest update
Applied missing adjustment from previous update for Moonlight/Darkbody's first attack damage multiplier
Consumption of BoxOfGoodwill is limited to 1 per player per day after level 51
March 13, 2021
03/13/2021 (1.8b)
–Mini Update–
Increased chances of successful hero unlocks at all level milestones
Slightly increased Melee spawns in Premium Dungeon Tier 5
Fix for disappearing quest go to objectives
Various fixes for unfinishable daily quests
Fix for occasionally adding Moonlight double damage attack too many or too few times
Monster death drops are now enabled
04/07/2021 (1.8c)
Restricted TeleportRing @move function on numerous maps
Fixed broken stairs back from Ancient Wooma Temple 2F to 1F
Fixed issues with spawn boxes in Ancient Prajna 3rd
Fixed Protection Ring Function
Fix for potential stuck point in Gold Pattern Boots quest
Fixed Curse/SoulShield/BlessedArmour area of effect size
Potential fix for problems assigning daily quests after reboot
04/24/2021 (1.9a)
Live Partial Patch (no reboot required for these – new incremental client patch available in the #info channel for manual patchers)
Added level 40 Armours to drops
Added level 45 Armours to drops
Added new level 45 Weapons to drops
Added new level 65 Weapons to drops
Added new level 60 skills to drops
Improvement to the drop rate of various late game skills from high-end bosses
if you are a lucky owner of a new armour and are having frame related issues please make sure to update the client at the launcher
04/25/2021 (1.9b)
Fix for sound related client crashes
Fix map edge drawing issue
Added MassEntrapment Skill
Added SkyOccult Skill
Added Immobilise Skill
Changed TM max consign price from 50 Mil to 500 Mil
Fix for a couple of Daily Quests which finished at the Trainer Taoist
Fixed various mid game bosses being vulnerable to Turn Undead at later levels
Zombies in the Infinite Bout Challenge rooms will no longer reincarnate (prevents stuck situations)
Increased frequency and numbers of HellBolts in Hell Cavern
Added Support for various additional new items
Slashing Burst from 70% PVP damage to 90% PVP damage(edited)
04/29/2021
Launcher Update (2.0.3.0)
Adds "alternative login mode" (enable in settings). This mode attempts to use the system browser to login users. Use this mode if you are having issues using Google to authenticate. You can use this mode in general, provided you have a modern OS/browser installed.
Adds ability to drag resize the launcher window.
Should now notify users if their system clock is out of sync when logging in.
Fixes launch button appearing "squished".
General TLC updates/fixes.
05/06/2021 (1.9c)
— Live Mini Update — (no reboot required for these, although restart of the game client is recommended for the item stats)
Increased base monster experience in the following group hunting areas by 30%:
Grey Cave
Ancient Temple
Ancient Lunar Temple
Peunmokdo Island
All 45 Armour's base stats increased slightly
Global Experience buff increased from 30% to 50% for now.
05/11/2021 (1.10)
30 New Daily Quests added
Crescent Moon Forest is now accessible via Taoist Village
Premium Dungeon Tier 6 now open
New level 60 Armours in drop files
New level 60 Weapons in drop files
Added TrollKings to Hell Fire Kings Room
Fixed AncientRedThunderZuma not giving off light
Rebuilt monster drop files for Peunmokdo Island / Ships (vastly improved drops of rare items from monsters)
Rebuilt monster drop files for Premium Dungeon Tier 5 (vastly improved drops of rare items from monsters)
Rebuilt monster drop files for Grey Cave (vastly improved drops of rare items from monsters)