Celebrating 3 years of Artificial Mir II, we're throwing a crazy anniversary event. Get involved today!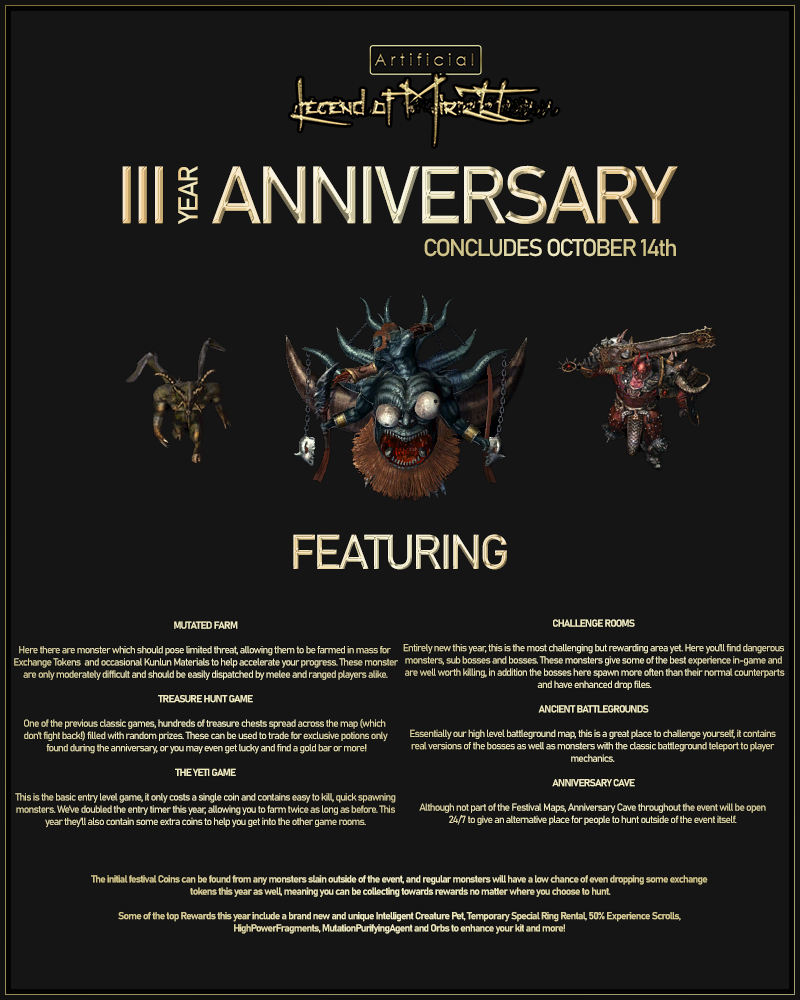 Introducing the Artificial Mir II 3rd Anniversary event.​
This year we'll return to our premier collection event, held within the Anniversary village. All of the attractions have been improved or replaced based on last years run to offer up more diverse places for you to collect tokens and exchange them for some grand prizes.
In development of this event we were aware people are very keen to upgrade their Kunlun Gear and we've provided some opportunities within the event to do this too.
This year will include the following areas, many of these are divided up into level stages to ensure it's not too hard and the competition isn't too fierce amoungst players. Although some areas will allow higher levels to bring along lower level players should they wish.
​
Mutated Farm​
Here there are monster which should pose limited threat, allowing them to be farmed in mass for Exchange Tokens and occasional Kunlun Materials to help accelerate your progress. These monsters are only moderately difficult and should be easily dispatched by melee and ranged players alike.
​
Treasure Hunt Game​
One of the previous classic games, hundreds of treasure chests spread across the map (which don't fight back!) filled with random prizes. These can be used to trade for exclusive potions only found during the anniversary, or you may even get lucky and find a gold bar or more!
​
The Yeti Game​
This is the basic entry level game, it only costs a single coin and contains easy to kill, quick spawning monsters. We've doubled the entry timer this year, allowing you to farm twice as long as before. This year they'll also contain some extra coins to help you get into the other game rooms.
​
Challenge Rooms​
Entirely new this year, this is the most challenging but rewarding area yet. Here you'll find dangerous monsters, sub bosses and bosses. These monsters give some of the best experience in-game and are well worth killing, in addition the bosses here spawn more often than their normal counterparts and have enhanced drop files.
​
Ancient Battlegrounds​
Essentially our high level battleground map, this is a great place to challenge yourself, it contains real versions of the bosses as well as monsters with the classic battleground teleport to player mechanics.
​
In addition…​
​Anniversary Cave​
Although not part of the Festival Maps, Anniversary Cave throughout the event will be open 24/7 to give an alternative place for people to hunt outside of the event itself.
The initial festival Coins can be found from any monsters slain outside of the event, and regular monsters will have a low chance of even dropping some exchange tokens this year as well, meaning you can be collecting towards rewards no matter where you choose to hunt.
Some of the top Rewards this year include a brand new and unique Intelligent Creature Pet, Temporary Special Ring Rental, 50% Experience Scrolls, HighPowerFragments, MutationPurifyingAgent and Orbs to enhance your kit and more!