We hope you've all had a wonderful Christmas! As 2020 comes to a close we thought it would be nice to catch up with some of the big events and updates we've been running over the last few months; with plenty more to look forward to in 2021!
19/12/2020 – Christmas Event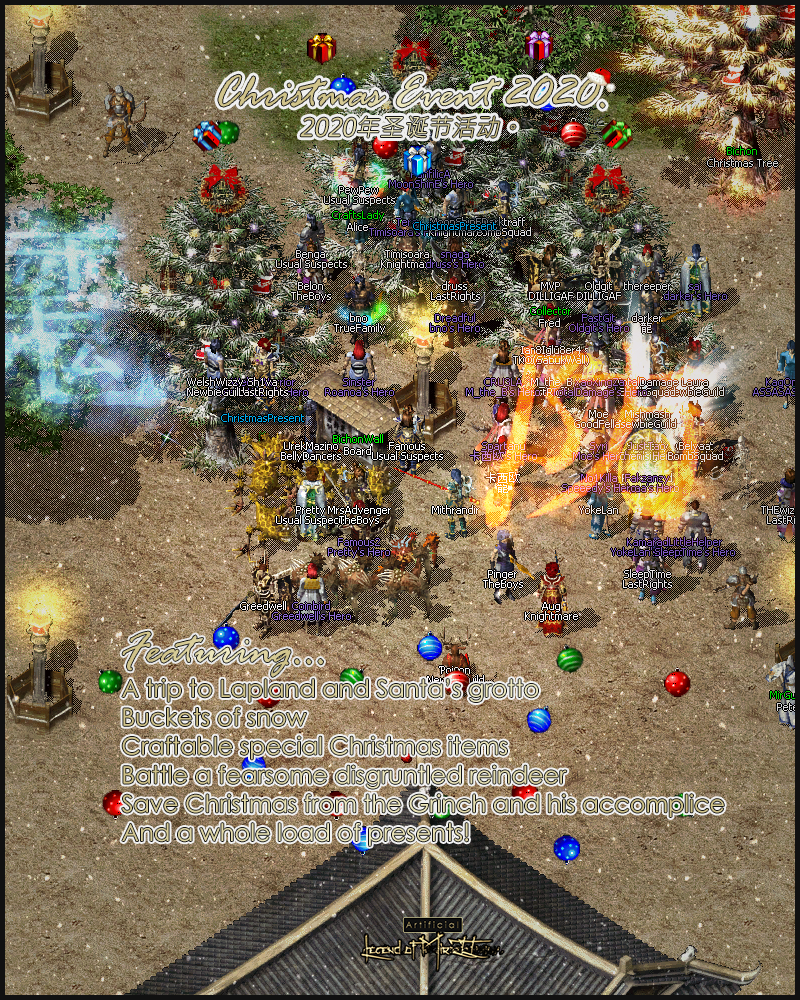 04/12/2020 – Ancient Temple Update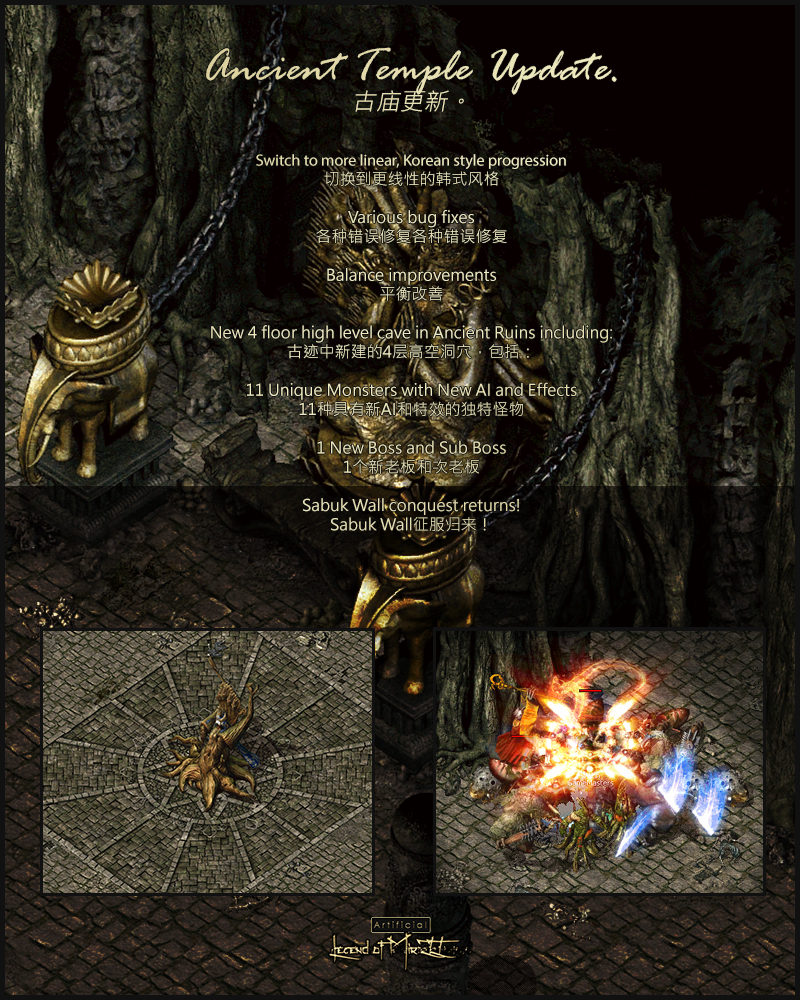 25/10/2020 – Haloween Event
25/10/2020 – Woomyon Valley & Swamp Update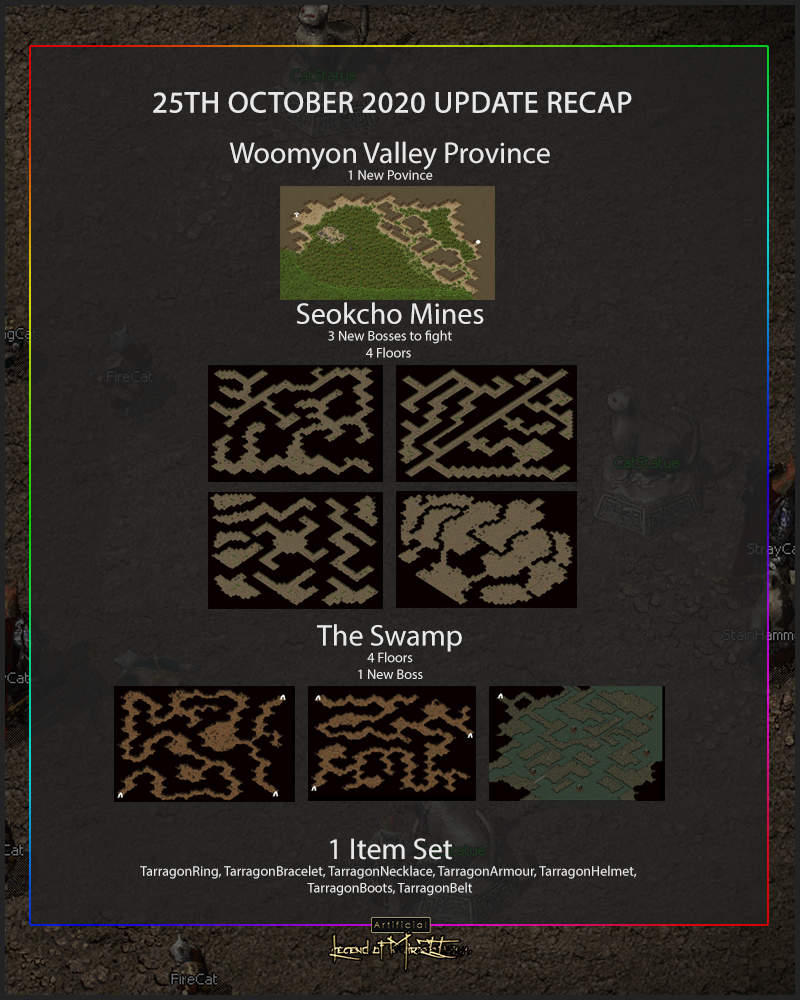 Below are all of the change logs since we last posted here back in June.
09/07/2020
Fix: Archer base accuracy changed to 8
Fix: Issue with pets/mobs stalling movement after teleporting
Fix: Delayed explosion disappearing on death instead of exploding
Fix: Moonlight animation not showing to other players when the player hides.
Fix: Force archer to aim for PVP when using shift lock (need to hover locked target)
Performance Tweak – skip monster animation logic if not yet needed.
Fix: Plague now hits player for damage as well as MP. Also adjusted proc rates so that they scale correctly with magic level.
Fixed MoonLight – now become visible to players when close, group members can always see you in stealth.
Added MoonMist Sin Skill.
Fixed various Typo's on TM UI
Fix: Adjusted which buffs can pause in SZ/Fishing; fixes a number of issues.
Added Guild Territory support
Added mob mission commands for NPC/GM for invasions
Extended decorations to work and persist outside GT maps where allowed.
Fix Mentor/Relationship buffs
Fix: Counts check
Fix: Invisible hugger
Added Support for 150+ Monsters
Added Key Binding interface
Added and corrected a lot of missing effect animations for monster
Fixed issues preventing some merchant NPCs from displaying their dialogues
Fixed StrongWoodenBow was acting as a melee weapon
ElementalShot now costs 1 mana at level 0 and increases by 1 per level
Fixed incorrect Skill Lists in Book Stores
Fixed stats on CursedMaleficBow
Fixed mana cost and cooldown time of EnergyShield
Milestone announcements will no longer trigger for GameMasters
Fixed issue with level up script chain preventing refreshing player effects on level up
Added descriptions for Archer Skills to all MirGuide NPCs
PantheraTiger removed from Game Shop
BlackTiger can now be sold and traded
Added Green, Gold and Silver Key logic to PremiumDungeon Tier 4 & 5 NPCs
WanderingMonk and GuardianMonk now use group teleport
Fixed monster AI for HellBolt
Fixed stats on PurpleFoxRing
Added Account Security reminders
Fixed various Past Bichon maps allowing recall
Converted original Guild Territory NPCs
Added Guild Territory NPCs into Guild Territory Instances
DreamDevourer no longer gives off light
MongchonLord and SerpentLord now use correct appearances
Changed level announcers beyond level 40 to trigger every 5 levels and added announcers up to level 80
03/08/2020
Guild notice board can now be edited
Relationship days are now properly counted
Critical Attack stat is now correctly updated on client side
Guild Storage now functions
Added basic SabukWall Conquests
Fixed cooldown time of HealingCircle
Guild Territory Decorations are no longer sellable
Added FlowerBunch to Item Database
Added FlowerVendor NPC to Bichon Wall
Rebuilt drop files for FlamingMutant, FlyingStatue and StoningStatue
Fixed a couple of missing GT Decoration items
Added 30 day non-sellable variety of all Guild Territory Decorations for use in the Game Shop
09/08/2020
Fixed several issues with new inventory system
Fixed issue gaining pot items
Fixed TM updating player gold incorrectly, requiring relog
Fixed combine items action (Gems)
Added various 'green' messages (top-right) for item actions
Fixed inventory desync after trading
Added failsafe for returning items when cancelling refining
10/08/2020
Fixed new characters unable to start game
Fixed new characters not receiving starter items
Fixed Mentor/Relationship buffs
Fixed invisible Hugger
Fixed Hero Sealing always failing
EM damage from body has been reduced
Fishing with a full inventory now notifies player what item they lost
Added Hero item un/equip and item used messages
18/08/2020
Launcher updated to 2.0.2.0
Fixed issue with file extraction on some computers
Fixed issue with several buttons appearing when they shouldn't
Changed rate units from kB to Mb
Added a rough "time remaining" estimation
Added checks to avoid downloading game files to the Launcher's root folder
Added better error logging
Added update button for when a launcher update is pending, but the user has asked to do it "Later"
18/08/2020
"Remember me" option now actually remembers login (for 10 days)
18/08/2020
Launcher updated to 2.0.2.1
Fixes issue with windows 7/8 users crashing (please run the installer from: http://patch.artificialmir.com/ArtificialMirInstaller.exe)
Note: some users my be unable to complete the launcher update from within the launcher itself. Please re-run the installer (see above). Your game files will not be deleted.
20/08/2020
Added AncientFlameSummoner AI
Added missing Archer skill StoneTrap
Fixed a bug where you cannot immediately pick up an item a player drops
Added Line Messages to automatic broadcast
Added option to toggle name view for monsters
Added paralysis to StoningStatue big attack
Adjusted StoneTrap timings
Added logic so that if you cast DelayedExplosion on a target that already has it, it will land on a mob next to it instead (that doesn't have the debuff already)
Added FlamingMutant AI
Added missing game mechanic (slower flich at lower levels 1-30)
Added FlyingStatue AI
Tweak to TDB to fix proc rates on higher level mobs
Fix Heroe's FrostCrunch not applying debuff
Red poison changed from cutting AC to a percentage base damage increase to match official mechanics
PVP damage from certain spells that use the magic struck type defence was ignoring AMC, now corrected to take into acount AMC and MR.
Added following Cat's AIs: Jar1, Jar2, FightingCat, FireCat, CatWidow, StainHammerCat, BlackHammerCat, StrayCat, CatShaman, SeedingsGeneral, RestlessJar and GeneralJinmYo
Fixed damage, move speed and attack speed of MasterKenji
Fixed move speed and attack speed of TrollKing and FlameQueen
Built monster stats for AncientFlameSummoner
Various fixes to Quest dialogues
Fixes critical damage calculation from BurstSword
Various fixes to system scripts to prevent lag outs
Added Red Key Mechanics to Premium John NPCs (tiers 1 – 4)
Adjusted stats of CharmedSnake
Tweaked cooldown of Flash Dash skill
Added spawns for Lunar bosses
24/08/2020
Changes to Flashdash to make it closer to official behaviour
Delayed explosion effect not timing out
FrostTiger no longer passive when tamed
Tao hero will now heal/buff pets of the owner or group memebers.
Archers Attack Speed scaling is now working as expected
Only Assassins can go past Attack Speed 16 (up to 20)
Fixed Guild territories unable to Purchase/Pay Rent etc
Fixed Guild Territory Decoration expiring early issue
Added Luna Item Disasembly function
CharmedSnake AI changed to use green poision
GT Deco's wont disappear on fail to drop
Removed PoisionShot Rune requirement
Archers Doubleshot moved to DC based skill
Allow SwiftFeet to be cast while in MoonLight without breaking the buff
DarkBody will only target the initial target
Fixed Key binding text
Added Cooldown timers on skill bar
Under the hood performance improvements
Built drop files for AncientFlameSummoner
Added RedKey to Premium Dungeon drop files
Added skill description for StoneTrap to all Mir Guide NPCs
Fixed VampireShot doing too much damage beyond level 0
Built monster stats for Jar1, Jar2, FightingCat, FireCat and CatWiddow
Made 30 day Guild Territory Decorations available in the GameShop
Added Duration to the tooltips of all GT Decorations
Built monster stats for StainHammerCat, BlackHammerCat, StrayCat and CatShaman
Built monster stats for SeedingsGeneral, RestlessJar and GeneralJinmYo
Built monster spawns for Seokcho Mines
Tweaks monster spawns of Ancient Prajna Cave
Built monster spawns for Woomyon Valley
28/08/2020
Updated Login Servers (v1.4)
Adds new captcha that uses no external resources
Fixes incorrect links after successful registration
Removes "beta" banner
29/08/2020
Fix: GS mailing to character when bag is full
Fix: Hero items ghosting on failed use.
Fix: Issue where it forces you to walk when trying to run immediately south
Fix: PoisonCloud was using wrong damage type.
Fix: World Map not updating quest icons
Fix: Unable to consign the same type of item consecutively
Fixes online check for characters returning true for other characters
Fixes issue with launcher being unable to update
Fix: for null exception in GetNameColour
Fix: Change MR proc to Resist instead of Miss
Fix: Corrected some logic in the player name colour code regarding wars
Adjustments to Archer Hero – Added Poison Shot amended magic struck frequency, fixed attack speed desync.
Fix: Change to Pet Enhancer skill to bring it inline with official behaviour
Fix: Stop world map from adding static objects to the map every time the current map button is pressed
Fix: Empty health bars being drawn, also added option to config: "HideRevBarWhenFull"
Added Tail Item Set Bonuses
Fix: Exclude Rested buff from SZ pause.
Fix: Issue where someone else's hero object would ghost when running off screen.
Fix: Crash/Disconnect client when linking too many items (exceeded chat length)
Tweak to DarkBody AI, couldn't change target if attacked.. shouldn't be able to
Fix: Slow not affecting attack speed
Fix: Don't pause Swift feet buff in SZ – causes rubber banding
Fix: Darkbody damage scaling adjustment
Adds new guild permission for managing wars
Added Monster names label toggle button to options
Fix: Archer buffs now refresh correctly when an archer appears on screen – elements/barrier state
Fixed skill points for Double Shot
Mystery items are now level 18 requirement
Added ingredients into Lunar Disassembly file
Added Lunar disassembly to WoligukSurvivor NPC
Added SolidBoneBow and SolidHoaSword to item database
Added SolidBoneBow and SolidHoaSword as reward options for Way to Mongchon Quest
Added FiendBow recipe to all Crafts Ladies
Re-connected Natural Caves and Oma Caves connection path
SpiritBlade now shows correct class requirements (Tao, Wiz & War) when held by an Assassin or Archer
31/08/2020
Fix: Monsters with small view range idling/invulnerable to guards.
Fix: Bug where you can't equip items to hero from their bag by using mouse to drag and drop on to hero equip slots
Fix: Green messages when picking up/dropping items & quantities.
Fix: Adding quantities indicator to item drops
Fix: EM now 'sleeps' for 3 hours after it has been killed on the last stage.
Fix: Added logic to refining system to allow ore to decrease/increase weapon dura
Fix: Added ALT + Left click to fast move items from players bag to refine inventory
Added chat translation feature
Fix: Allow Focus to proc for skills
Add GM command to change seal count on hero @HeroSeal 0
Fix: Allow heroes to use Focus with other skills
Fix: Stop spell effects triggering when a player turns
Fix Adjustments to Magic struck on monsters – to being in line with archers aspeed scaling.
Fix: Guild wars was lasting x 1000 times longer than expected.
Fix: Altered Tao Hero search for friendlies logic to respect users attack mode
Fix: Tweaks to Tao Hero AI – skips trying to poison mobs if it doesn't have any, same for amulet based spells.
Fix: Adjusted magic struck rate, this was far too high allowing archers to stun lock solo.
Fix: Allow guild owner to start wars
Fix: Server restoring deleted characters on reboot
Added command to allow GM to change: @SpawnRate 1 @EXPRate 1 @DropRate 1 @SpawnMultiplier 1
Fix: Changing from 5 steps until run after struck to 3 steps. Confirmed on Korea mir.
Added TailPendant and TailRing to item database
Adjusted monster drops of TailWheel
Added TailRing and TailPendant to drop files across the game
HeroMarble (Sealed hero) can now be stored
Fixed wrong mini map and missing big map in Ancient Stone Temple 3rd
07/09/2020
ArtificialMirInstaller
Added checks for system dependencies: .Net4.8 | VCRedist_x86 | DirectX.
Added download links for above dependencies.
LoginServers
New users are no longer able to attempt to login without allowing the game server access to their email/profile.
09/09/2020
Fix: DarkBody Move speed correction
Fix: Item Linking issue
Fix: Hero saving when using marble
Added In-game Timer feature
Fix: Adding chance to dodge single target casts if running as per official behaviour
Fixed various issues with Archer skills causing server side errors
Fix: Reduce range of Spitting Toad to 6 cells (was 12 which is way too far)
Fix: Stopped Shift + 1 opening chat, uses belt item instead. Key binds may need to be reset
Fix: PVP Cool down on heroes now triggered when poisoned in PK
Fix: Magic Shield changed from 50% to 66%
Fix: Don't show the Magic Shield Buff icon
Fix: Tweaks to Flash Dash to try fix some displacement issues
Fix: Prevent Boss monsters from being slowed completely
Fix: Shoulder Dash Tweaks, Moon light sneaking tweaks
Fix: Hero skill key selection issue
Fix: Adding missing names to Player Map/Server Shouts
Fix: Tweaks to Mirroring to make it less likely to be distracted by pets/guard
Fix: Allow SpittingToad and VampireSpider to take damage
Fix: Issue with Guild Wars never ending
Fix: Issue with name labels showing the wrong colour
Fix: Issue with guild system messages not being received
Added Korean Style in-game Mouse Cursors, Can be disabled in config if desired.
Various fixes for isolated crashes and server stability
Guild Territory Teleport and Invite scrolls can now be stacked
Fixed various issues with GN Lunar items
BoarTooth quest item now drops
Fixed move speed of mirroring clone
Fixed cost and stack sizes of Elemental Runes
Fixed issue with Red Key not working in Premium Dungeon Tier 1
Fixed movement and attack speeds of various monster from high level areas
Fixed monster level of CrystalSpider
TheRipper and RedMoonBlades no longer share the same appearances
Premium items can no longer be dropped on the floor by death or other means
Fixed cooldown time on PoisonCloud
Shoulder Dash cooldown is now 3 seconds
Fixed cooleye attribute on OmaKing and OmaKingSpirit
Premium Dungeon Maps are now No Player Drop instead of No Fight Zones
Fixed cooldown of Dark Body
MysteriousTownScroll and MysteriousDungeonScroll can both now be traded
14/09/2020
Archer guards can no longer take damage from players, this should prevent griefing and less of a nuisance when archers patrol invasions.
Fix: Bosses not to be affected by spawn multiplier
Fix: allow Unicode characters for names and guilds.
Added the ability to click player name or guild from inspection window to copy the text into chat.
Adds new client settings in Launcher Borderless;Smooth Camera;Edit Mir2Config.ini;
Added Show Own HP option to Config file. Fixed issue with labels jittering in smooth mode.
Fix: Remove Decoration from map not being saved on reboot.
Fixes mob kill count and boss kill count
Fix: Only allow one boss pet to be tamed
Fix: Typo on TM
Fix: Resolved issue with Delayed Explosive final explosion not always showing
Fix: Draw Heroes Elemental shot
Fix: Disable special character filter on names when clicking to pm
Fix: Adding missing logic that was suposed to give PK points when a hero is PKed
Adjusting cell times to reduce bounce back
Fix: Change Moonling sneaking distance from 3 spaces to 2 spaces.
Fix: Changing Archer Hero to use same attack type as player for StraightShot
Fix: Buffs going missing..
Fix: Wrong defence type being used when heroes use magic vs mobs (was working against AC)
MysteriousTownScroll and MysteriousDungeonScroll can both now be traded
Fixed cooldown of MoonMist and Blink
Creature Pets and associated items removed from NPCs and GameShop (temporarily – these will return in a later patch)
All Guards, ArcherGuards and Trainers all now have Boss attributes
Fixed Missing RedBoar, BlackBoar and SnakeScorpion from B7_AngledStoneTomb
Fixed Super Zombies in B1_OfMine
Can now view and purchase from the inventories of all Collectors
MidLevelCave is no longer a no player drop zone
WhiteEvilBoars no longer give out light
Fixed Mystery Cave WoomaGuardians spawns
Fixed broken door in Natural Caves
Trading has been re-enabled
18/09/2020
Added GM Toggle for monster death drops
Fix: Tweaks to reduce Bounce Back issues
Fix: Tweaks to FD
Fix: Heroes show as purple on minimap
Fix: Prevent Hero Release scroll from being wasted when used accidentally.
Fix: Prevent Pets/Heroes from being killed in no fight zones
Fix: Allow players to walk through objects in SZ
Fix: FiveString Set rounding issue displaying the wrong HP value on the client.
Fix: Sin heroes DoubleSlash now matches the power of players version.
Fix: Adjustment to Map read code to see if it helps prevent random black map issue.
Fix: Adjusted potion regen to more closely match the official behaviour
Fix: Adjusted Behemoth Ranged attack was using wrong multiplier.
Fix: Reduced Demon Wolf stun rate, was way too frequent.
Fix: Increased BA/SS/UE durations so that they scale with level
Fix: Disabled trainer summary spam
Fix: Issue where name label wasn't updating after a monster was tamed.
Fix: Adjusted draw order so that NPC's are drawn on top of any mobs in the same cell.
Fix: Shoulder dash pause step issue Fix: Issue with range checking
Fix: Issue with range checking
Fix: Bug with heroes being able to cast slightly further than intended.
Fix: Disallows white-space characters in names
Fixed Prajna Patrol Guard getting stuck on Village Chief House
BlackTiger now displays 'Can't Sell' (was previously still unsellable)
Tweaked Bichon Wall Safe Zone to prevent the unintended fishing spots
Added No Teleport Safe Zones to Academy Maps
Improved tooltip information for the value of premium items (0 gold to merchants)
Improved tooltip information of fishing items (only the rod can be repaired)
Added Jackolantern to monster database
Improved tooltip information of GN lunar items (no longer displays stats and don't repair)
Added missing Dream and DarkDevourer spawns in Red Cave 2F onwards
Added Teleport Out function to most indoor NPCs around Bichon Wall and Mud Wall
22/09/2020
Fixed unintended group recalls being possible in later maps of Black Dragon Dungeon
Fixed disproportionate ratio of HP to MP Potions dropping in later floors of Black Dragon
Fixed VenomMidWeaver not applying poison damage
ArmourCastTool is now classified as rare
RotNdZombies now always drop the stolen gold (quest item)
RedCave_2F now uses an even spawn mesh (less overlapped areas)
Fixed CyanoGhast not applying poison damage
Added Storage function to OldBox in Guild Territories
MutatedManworm now uses correct teleport to target function
Added AncientDarks to Ancient Wooma Temple
Fixed server-side memory leak
23/09/2020
Fix: Map alignment issue
Fix: Tweaks to FlashDash
Fix: Adjust the rate of gaining BodyLuck back to take into account monster level
Fix: Life on hit, HP Drain now only applies to one target in melee range.
Fix: Archers can use Slow/Poison Attack with DC based attacks in PVE. (DoubleShot/Auto)
Fix: Adjusted Use item rate to closer match official (this effects Potion drinking speed)
Fix: Adjust FrostCrunch proc PVP rates, it was using PVE rates.
Fix: FrozenZombies using their AOE freeze attack too often.
Fix: Prevent items 'going missing' when placing them into a 'full' mystery bag (When this happens, they would go into the next slot that gets unlocked)
Fix: Adjustment to range limit targeting to allow a 1 cell buffer for targets moving out of range at time of cast.
26/09/2020
Fix: Big map now automatically refreshes groups locations when toggled
Fix: Client Freeze issue when delayed explosion caused a null pointer exception
Fix: Stop poison tags/effects etc from drawing through moonlight
Fixes guild members not being able to retrieve gold
Fix: GeneralJinmyo AI issues
Fix: HellKeeper poison duration
Fix: Teleporting to SZ blocking when should allow walk through
Fix: Chat Blocklist
Fixes hero drops being locked to killer
Fixes hero EXP calculating
Client connections limited to 2
Fixed Premium Torches not giving enough light range
HolyDCStone now give DC0-6
Fixed issue preventing groups of 13 or more from entering BattleGrounds
Fixed issue preventing groups of exactly 5 from entering BattleGrounds
Removed 1 cell Safe Zones around Guild Territory Trainers
Added Large Safe Zones to 2nd floor of Guild Territories
29/09/2020
Added commands @stats, @saystats, @grouproll, @played
Changed @roll to use up to 100 scale
Added alternative commands to allow group recall.
Limit Instant potions that can be carried to a maximum of 40.
Fix: Added 15-minute idle timeout to dead players
Fix: Melee attacks will only hit one target in the cell rather than all targets (to allow for door blocking to be overwhelmed by numbers rather than all getting hit)
Server-Side performance & stability fixes
Added checks for owning guild into Guild Territory Peddlers
Restored access to GTInvites for all Guild Territories
Fixed issue preventing completion of Lost Soul quest
Added HPBoosters to indoors Potion store in Bichon Wall
All fishing consumables are now destroyed on drop
GTInvites now expire after 24 hours
02/10/2020

Fix: An issue causing a Server crash.
Fix: Yimoogi / other Monsters (rare occurrence) not dropping
Fix: Certain Wiz Hero skills was putting out more damage than intended, now correctly matches players equivalent
Fix: Lover issue where you couldn't re-marry
Fix: Prevent newbie guild from being warred
Fix: Stop Storage from bypassing Instant potion limit
Added In Own Guild Territory check to Guild Territory Stairs
Can no longer tame GreenTurtles
Fixed EvilSpider and EvilHog missing from Viper Cave 2nd floor
Fixed NPC Script for sale of Guild Territories
Fixed OldBox (storage) not working in Guild Territories
Added In Own Guild Territory check to GTAdministrator
03/10/2020
Provisons for additional 10 GT's added on the server, these will be enabled once checked.
Fix: Allow tao/archer heroes to walk towards target if it is out of range rather than standing idle
Fix: Poisons are cancelled on a player when the caster is no longer on the same map.
Fix: Client tweaks to improve performance, feedback appreciated.
Fix: Add 15 second cooldown on being able to mount after combat
Fix: Stop archers vampire spider from attacking guild memeberts on guild mode
Fix: Improved Wiz Hero AI (Skill priority)
Server side optimizations
Fix: Wiz Hero manual cast overrides
Fixed EvilSpider and EvilHog spawning in Viper Cave 1st floor
03/10/2020
-Fix: Unable to dismount in combat
05/10/2020
Fixed NephriteShoes(H) giving an extra agility point
09/10/2020
Additional 10 Guild Territories made available
Fix: Issue preventing offline users from being removed from guild.
Fix: Trade issue
Fix: Prevent chat ban from spamming mount button in combat
Fix: Curse not causing player to go brown
Fix: Drawing object before display location set
Fix: Five String set scales off base HP
Fix: Hitting a hero of a brown/red player no longer causes you to go brown.
Fix: Remove extra stat bonus from Hero when using Smash Set
Fix: Prevent weapon cursing when PKing own hero
Fix: Heroes Elemental Shot can now gain skill points.
Fix to stop failed to drop items disappearing
Fix to prevent GiveItem NPC command from failing
Fixed spot in SealedMaze spawning too many clustered TrapRocks
Added Archer Lunar items to Item Database
Added Archer Lunar items to Lunar monster drops
Added Archer Lunar item crafting recipes
Fixed counter on New Poison Quest and made description clearer
Added ability to trade Wolves for other types at the StableGirl NPC in BichonWall (this is for a limited time only – please make sure you unequip the accessories first or they will be deleted)
10/10/2020
Fixed Server Crash
Monster death drops are now disabled while we review stability.
18/10/2020
Fix: Fishing rod giving stats
Fix: Monsters dropping when killed by Guard/NPC/GM clear command
Fix: Slashing burst displacement and animation bug
Fix: Various Archer animation timing issues
Fix: Flash Dash displacement issue
Fix: Amendments to melee hit register
Fix: Shifted Trust Merchant Queries off the map thread, this should hopefully prevent high spike latency on the map threads.
Fix: Crash caused by football, can now only be moved by melee actions
Added: Timers to NPC Timed recalls, cancel on break recall time. Also added @grouptimer and @globaltimer. May do a Guild timer in future if there is a desire.
Fix: Hero Slow Bug – should now go back to normal after the debuff runs out
Fix: Prevent heroes from attacking pets.
Fix: HellLord – now spawning less bombs
Fix: Adjustments to hell map spell effect draws
A lot of background work done on AI for upcoming areas/events..
Added Toggle corpse option (CTRL & -)
Decrease the EXP penalty when grouping + (25%)
Increase Wizards lightning skill damage slightly (+20%)
Cross Halfmoon damage now scales with skill level
Blue and Brown Wolf Mounts now give Accuracy +2
Wolf Mount now gives Accuracy +1 Agility +1
Added Training Area Tele to BW signpost
Fixed GreenDarkArmour incorrectly giving HP+% instead of MP Regen
Tweaked Spawns in AST and Premium Dungeon Tier 3 Floor 2
Fixed too many Red Thunder Zumas spawning in Zuma Temple 7th
Fixed issue preventing the full MossyBox script from running occasionally
Fixed IZT GreenKey – was taking key but not spawning boss due to incorrect monster name in script
Rod items no longer provide AC database side
PK Points now take proper time to expire
Random Teleport is now allowed in Kings Tomb
Random Teleport is now disabled in Yimoogi Nest
25/10/2020
Fix: Firewall/Poison Cloud can no longer tick again immediately after stepping in, The tick timer is reset.
Fix: Moonlight animation not always showing when cast
Fix: FlashDash No longer cuts shields
Fix: Capped Red Poison at +20% damage for PVP, still works at +30% for PVE. This brings it more inline with official.
Fix: Show guild name on inspection even when in private mode
Fix: Tweak to Harden Rhino AI so that they don't dash as often.
Fix: Tweak to Demon wolf AI so that they don't stun as often.
Fix: Allow recruiting/leaving guild while at war if in safe zone.
Fix: HellLords damage increased
Fix: FlashDash Attack hit Delay corrected
Potential Fix: For wars not ending, also added GM commands to manually end Guild wars.
Potential Fix: For the bug where you remain dead after reviving. (Cant replicate, feedback please!)
Potential Fix: Player Ghosts (Usually of self after login, Cant replicate, feedback please!)
Various other small server fixes.
Disabled Marriage cooldown
Added NPC scripting for SeokchoMines Cat Statues
Built drop files for WoomyonValley monsters
Prepared maps for SwampCavern and DarkSwamp
Added monsters for Swamp maps to monster database
Built stats for Swamp monsters
Built spawns for Swamp Caves and Dark Swamp
Added spawns for Swamp Caves and Dark Swamp
Built drop files for Swamp monsters
Added Swamp NPCs and scripts
Prepared maps for Haloween Event
Added Haloween Items
Added Haloween event monsters, stats and drops
Added Haloween NPCs and scripts
Enables Access to Woomyon Valley, Seokcho Mines, Swamp Cavern & Dark Swamp
25/10/2020
JackOLanterns Now give an hour EXP buff on chance instead of 15 minutes
Increased chance of leveled monsters spawning
25/10/2020
Lowered HP of SkullDemon, his immunity to poison plus high health pool means his regen was way too high. Should be more manageable now.
November 2, 2020
09/11/2020
Various fixes to buff system (saving etc)
Security / Stability fixes
Halloween Event Finished(edited)
November 10, 2020
10/11/2020
Closed exploits allowing players to carry more Sun Potions than intended
Applied revised attempt at fixing buff system
04/12/2020
Good BodyLuck now reduces body drops
Corrected damage indicator that would imply that Agility caused a hit to 'Miss' when in reality it should have reported as 'Blocked' because it was actually being fully prevent by the AC/AMC.
Trust Merchant no longer resets to the first page after buying an item.
Warrior Hero TDB now applies stun correctly.
PetEnhancer now applies both AC and AMC buff rather than just AC.
SummonSnakes tweaks corrected name and adjusted initial delay/death timer.
Group EXP split calculation was not checking that the map matched only the coordinates when determining which members are close by.
CresentSlash hitbox corrected.
CrippleShot was not correctly procing the poison/vamp buffs.
Archers summons CD is not set if the cast fails due to obstacles.
Guildless players not being removed from GT when logging in.
PKing hero now gives double PK points, given that they are practically defenceless.
Able to de-summon hero in combat If a hero is attacked by another player (who's not in the same group/guild as the master).
Client Sound engine now runs on another thread.
Quest sharing no longer stacks; throttled to one every 2 seconds.
Fixed issue where hero items were not expiring.
Fixed issue with missing trade failsafe.
Multiple stability improvements.
Add Sabuk Palace Walls.
CresentSlash hitbox corrected.
Added Magic Shield Buff Icon.
Amended alt blend mode for more transparent effects toggle with CTRL and +.
Update SnakeTotem Add 40 AC/MAC and change attack speed to 2000.
Adjust stats on Sabuk main gate/walls.
Fix sabuk place top side wall movement co-ord.
Increased Shoulder Dash CD by 1 second.
Increased Plague MP requirement.
Applied new EXP tables.
Removed Agility from NephriteBoots.
Reduced HP and Damage of some Swamp Monsters.
SeokchoMines 1st and 2nd floor is no longer allowed for recall.
Prepared maps for Ancient Temple.
Built stats for Ancient Temple monsters.
Added Ancient Temple NPCs.
Added spawns for Ancient Temple.
Built drop files for Ancient Temple monsters.
Added Ancient Temple NPC scripts.
Added Ancient Temple Dungeon.
19/12/2020
Added Weather System (Toggle CTRL+W)
Added auto retry map load on fail.
Added automatic ghost clean up
Fix: Pet Enhancer buff not always being shown.
Fix: IceThrust hitbox/delay and proc scaling.
Change: Add slight pause after a leveled monster teleports to the target.
Change: Tree AI so that you need to be within 2 spaces to damage it
FrostTiger now has Boss attribute
Fixed stats on OmaKingRobe for Assassin and Archer classes
All Marbles are now considered rare (will be highlighted in drops)
Fixed Accuracy and Agility being too low on HellKnights
Re-enabled the ability to request Sabuk Wall wars at the Bichon Administrator
Re-instated the Agility +1 on NephriteBoots/NephriteBoots(H)
Removed the Accuracy +1 on SapphireBoots(H)
Premium Dungeon Keys are now considered rare (will be highlighted in drops)
Added Mapmove event from HellFire Kingsroom to Lobby.
Disconnecting in HellFire Lobby or Kingsroom will now reconnect you in Screaming Hell Entrance.
Fixed HellKnight's Move and Attack speed
MagicBooster now has a 40 second cooldown
Adjusted Pet Enhancer duration
Added Divorce Papers to GameShop (allows for forced breakup with spouse)
Prepared maps for Premium Dungeon Tier 5
Added monsters for Premium Dungeon Tier 5 to monster database
Built stats for Premium Dungeon Tier 5 monsters
Added Premium Dungeon Tier 5 NPCs
Added spawns for Premium Dungeon Tier 5
Built drop files for Premium Dungeon Tier 5 monsters
Added Premium Dungeon Tier 5 NPC scripts
Prepared maps for Christmas 2020 Event
Added monsters for Christmas 2020 Event to monster database
Added spawns for Christmas 2020 Event
Built monster stats for Christmas 2020 Event
Added NPCs and scripts for Christmas 2020 Event
Built drops and presents for Christmas 2020 Event