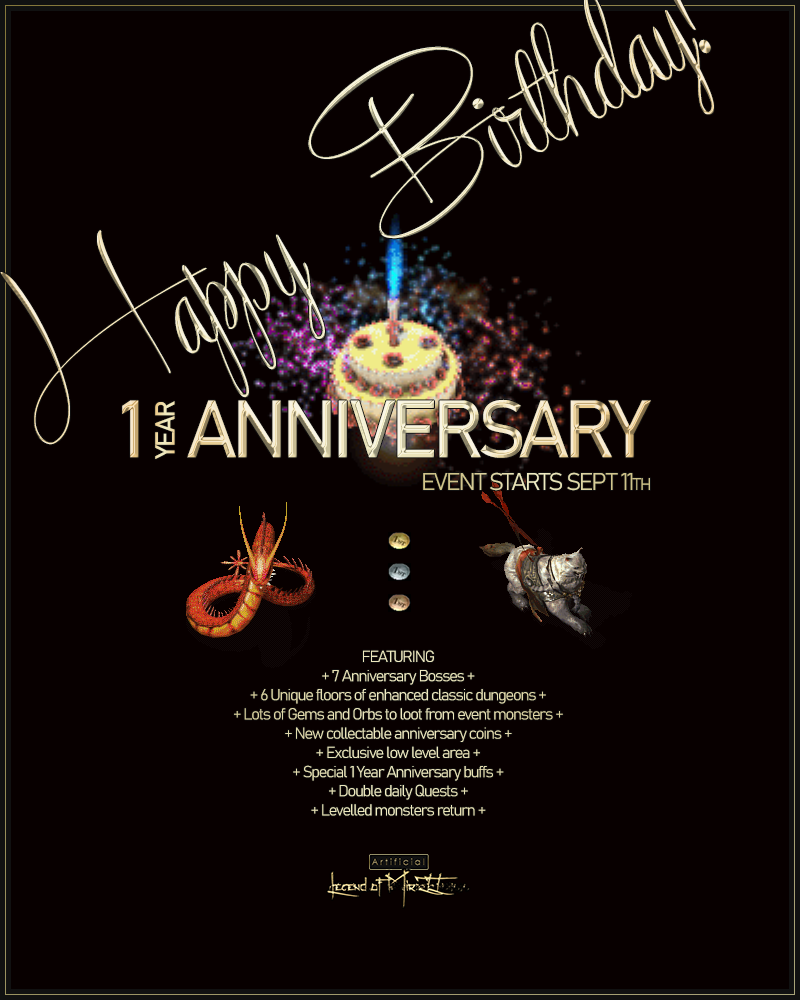 The anniversary celebrations are mostly based on our successful Halloween event, which was a smaller hunting area that players could enter with monsters that cave well above normal experience. This event will be similar although due to the level differences will feature a difficulty gradient which will mean different level groups will be hunting different areas of the cave. There is 5 sets of classic monster sets at new difficulty levels to present new challenges. You will no longer be required to collect anything to enter, the NPC will simply take you there from Bichon Wall Safe Zone.
In addition killing any of the event monster has a chance to give you an experience buff lasting an hour, this can allow you to maximise the benefits of the event or utilise it elsewhere for even greater benefit! Getting to the end of the cave and killing one of it's bosses is going to be a challenge even for some of the highest players so grouping for the Kings Room will be essential, and those bosses will be tanky so as to give a good opportunity to fight over them and provide you with the consistent challenges!
Lower levels will have access to a separate cave, this again will have a difficulty gradient across the 1 map, offer unrivaled experience, and chances to obtain rare items from the boss, as well as some exclusive buffed expiring event items (level 30 wearable Sword of War God etc). The expiring items this time are limited to the newbie area so you will have the tools to catch up and have a taste of whats to come, all items in the high tier areas are permanent so that you can enjoy them throughout your time on our game!
New 1 Year Anniversary coins have been added to celebrate our birthday, these are stones with better stats than the Holy versions, they will drop from any monster in the game. These will be exclusive to the event but those you collect won't expire (they will still of course break on death like any other stone).
We've included a lot of Gems and some Orbs into the drops of the event monsters to help give people the opportunity to build new kits and ease the general economy.
We'll also be switching on a few extra features like leveled monsters (harder native spawning monsters across the game), extra daily quests, and leaving the current summer event experience and drop rates as they are throughout.
The event will last 4 weeks, we hope you enjoy it! And we appreciate your ongoing support! <3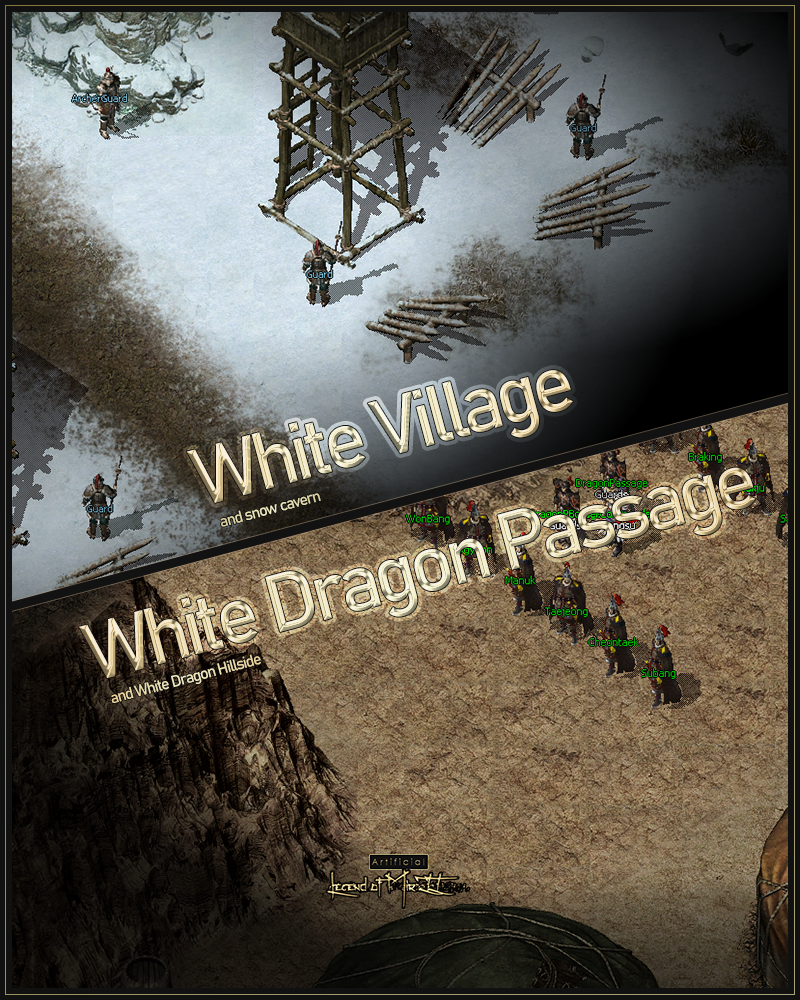 The progression of the challenges within Artificial Mir 2 continues!
Our most recent update has seen the introduction of the most challenging, yet rewarding region to date, the White Dragon Passage and White Village. Battle your way through 6 floors of mobs, potentially encountering a substantive Boss, to make it through to the White Village!
White village – As the new Hub for higher-level players, it is an area overran with white walkers and their fearsome Capos. With the new challenges comes enhanced rewards! The Group buff system has received a revamp providing considerable benefit to those willing to venture without them, furthering our developmental aim of recreating the Mir we all first encountered. Through completing these challenges find yourself rewarded with new tiers of weapons and skills to flaunt your prowess.
There have been significant changes to aid the game-state regarding PvP and availability to level and progress your character, with so many changes, hop into our Discord to see a full list of the great work put in and explore the new adventure with friends!
View Change Logs